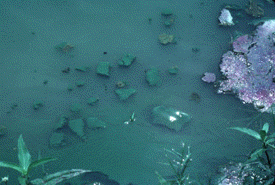 A Webserver for Cyanobacterial Research
---
Features
Cyanobacteria Image Gallery presenting over 200 beautiful images or videos of cyanobacteria. With thumbnails (longer download).
Or Without thumbnails (shorter download).


The Toxic Cyanobacteria Homepage with information about cyanobacterial toxins.


Cyanobacteria Links Library, a curated list of cyanobacterial websites with annotations.


Cyanobacteria Bibliography CyBib Archive, a searchable curated cyanobacterial bibliography of 25,000 field-tagged references through 2002.
---
Resources
Media Recipes for Culturing Cyanobacteria

Taxonomy of Cyanobacteria

History of Cyanosite including the first on-line version of Cyanosite from 1995 and archival pages
---
Announcements
Great website on toxic cyanobacterial blooms; loaded with practical information for the general public.


Cyanosite was awarded a two-year grant from the The Waksman Foundation for Microbiology to support an undergraduate stipend. The work-study student helped to maintain CyBib and weblinks while adding useful information to the site. We are most appreciative of this opportunity for substantial practical improvement of the site.



---

---
Submissions
Cyanosite is dedicated to information transfer within the cyanobacterial research community maintaining archives of images, experimental protocols, taxonomic information, and general information about blue-green algae, and links to other cyanobacterial, prochlorophyte, and cyanelle sites on the web. What you can do to help Cyanosite.
---

Questions and comments can be directed to: Dr. Mark A. Schneegurt, mark.schneegurt@wichita.edu
---
Two words from the Webspinner and Friends (in 1994)

Homepage image provided by Dave Krogmann, Purdue University

Cyanosite receives support from the Department of Biological Sciences at Purdue University and from Wichita State University
---
More than 1 million machines have accessed Cyanosite
---
This archival page of Cyanosite is no longer updated. The current equivalent page is located here.